** Last Update: August 20, 2001 **
Welcome to my "Facts of Life" picture and video clip site, featuring self-captured pictures from the episodes and FOL-related programs as well as
video clips
. (Sound bytes coming soon). To be notified when this site is updated, sign up at the bottom of this page. Click
here
for the latest news. Also, please sign my
guestbook
with any suggestions or comments.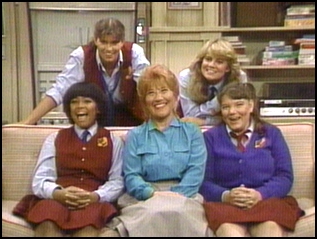 All of the pictures on my site except
Internet Pictures
are originals, meaning they have been captured by me. Feel free to print any of them out for your personal use, but please let me know if you would like to use any for your site.
~~~~~

Latest News
5/15 -- Site is finally up!
5/16 -- Put up the real media video clips
5/21 -- Added first .mpeg video clip, fixed Guest Book
7/14 -- New pics for the main characters plus some misc. ones in other sections, deleted "Related Links" page
7/20 -- Revamped the group pictures area. Expect these pics to be organized by season sometime in the future. Added more pics for the main characters. Hopefully sound bytes will go up sometime soon.